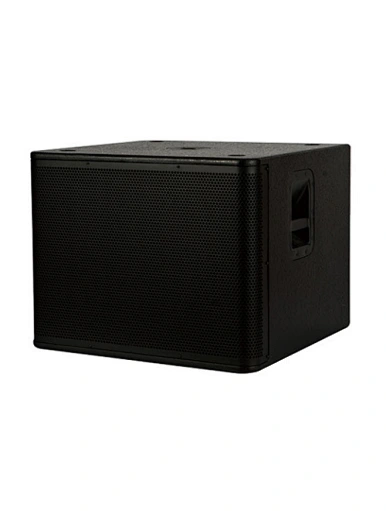 Mutifunctional performing arts subwoofer
BF181 is a compact, high-power subwoofer system. It features a long-stroke, 18-inch diameter woofer, front mounted on a ported enclosure.
There is a jack on the top of the BF181 that can be installed with a pole with a diameter of 35 mm, which is used to install a pole for a "subwoofer/full-range speaker" combination. Can be used to mount loudspeakers with standard 35mm pole jacks and weighing less than 50kg. The box is made of high-quality 18 mm thick multi-layer plywood, and the surface is treated with black wear-resistant spray paint. Using steel mesh to protect the drive unit, very professional appearance design.
Features
18-inch long-throw woofer for extended low-frequency output
Large-area inverter hole can reduce distortion
Low profile and compact
The box is made of 18mm thick plywood, and the surface is treated with black wear-resistant spray paint
There is a socket on the top to install a pole with a diameter of 35mm

Technical parameters
speaker unit: 12-inch woofer
1.75-inch polymer diaphragm compression driver
Frequency response: 50Hz-20kHz
Horizontal directivity: 85 degree
Vertical directivity: 60 degree
Max SPL:125dB
Impedance:8 Ω
Sensitivity 1w/1m: 99dB
Cabinet material: 15mm multi-layer plywood
Surface treatment: black wear-resistant paint 
Dimensions (L x W x H): 300mm x 295mm x 540mm
Weight: 32KG